Written by unigeezer on June 29, 2008 – 4:25 am -
Welcome everybody to my website, UniGeezer.com, sponsored by Unicycle TV! My name is Terry "UniGeezer" Peterson, and I'm a 65 years-young guy (b. 1/15/56) specializing in an EXTREME form of off road unicycling known as, "MUni", which is short for Mountain Unicycling! You can check out my profile here, or click "Bio" above right. Feel free to contact me at: pianolover88@hotmail.com
Also see my "contact" page if you're interested in how to learn, or would like to contact me with any questions. And while you're here, please check out my various pages, and watch any or all of my more than 600 Extreme Unicycling videos! You are also invited to join me on my Facebook page!
Go to krisholm.com for the latest in state-of-the-art Unicycles, and also check out his latest innovative gear!
You can order all things unicycle, including the full KH line, from Unicycle.com!
My TENTH uni-century was a great success, although super tiring! Thanks to all who donated to  the Make-A-Wish foundation.  Although the ride is complete, you can still show your generous support by making a donation to this great cause. Thank you  UniGeezer 100 miles in 1 day
These next two videos were shot by professional cinematographers:
And at 61, I wanted to find if I could still hop up almost 70 stairs…on my 36er!
This was also shot with a steadicam
Very special Century ride for Autism. It was 14 year old Augie Tourdot's first century and he is now the youngest to have completed a 100 mile uni ride in a day!
New Lowe's commercial playing nationwide:
150 Miles in One day on One Wheel!
Morning News Feature Fox 10 Phoenix:
Awesome Aerial Drone MUni Film! https://t.co/NzjN6RSGp1

— terry peterson (@unigeezer) July 21, 2014
Aerial Drone Unicycling!
2014 Fargo Street Hill Climb Challenge–Four climbs, three on 29er, New Record!
TV News Interview:
120 miles in One Day for Leukemia Cure a big success!
I want to thank everyone for their generous donations to this worthy cause! I dedicated my 120 mile ride to my brother Gary, who has Leukemia. All proceeds will go to Leukemia research,
You can watch the actual video of my ride, which took place on 10/24/13:
My Epic 114 Mile "Double-my -Age" Mega Century! 3/10/13
New TV Feature: "My Generation" with host Leeza Gibbons:
I am very proud and excited to have successfully climbed one the steepest-if not THE steepest-streets in the US! It's famous Fargo street in Los Angeles, and it boasts a lung-busting 33% grade incline that goes up like a ramp for more than 528 feet! I am now the oldest, and currently ONLY person to have ever climbed this monster hill to the very top, on a unicycle! I've climbed it now three times. The first was on 2/23/11, and the twice during the Annual Fargo St. Hill Climb Challenge, on 3/6/11! Now it's official!
Channel 7 ABC Eyewitness News ran a story on my climb! Seen by MILLIONS I'm told! That's great exposure for our sport!
Sketch below by Alex Morris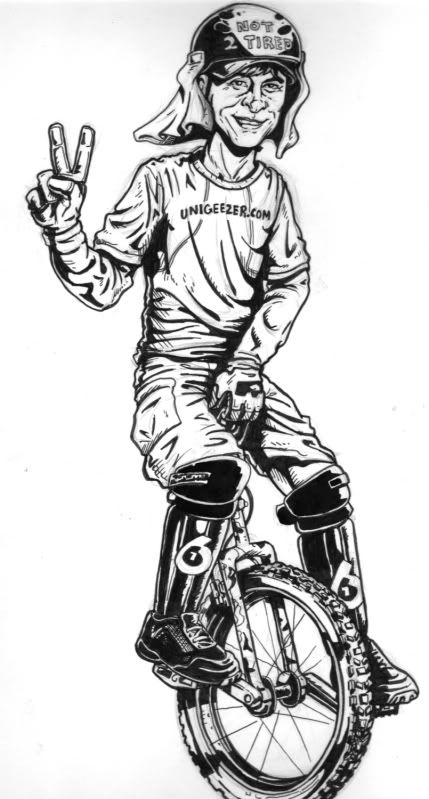 NEW Extreme Unicycling Documentary!
Filmmaker Joseph Neigh just released his awesome new documentary, "In Unison"! I was honored to be part of it, and it will go a long way to dispel some myths about the sport of extreme unicycling that still exist, but thanks to this film and countless youtube videos and other media exposure, people are starting to get it!
(New, updated FINAL version!)
*******************************************************************************************************************
I was featured on Yahoo's main page on 9/1/10,  in a new series called "Second Act"! In just the first day, my segment got more than 30,000 views! Now that's some great exposure for the sport of extreme unicycling!
*************************************************************************
My first 100 mile solo Unicycle Century
was on Sunday, July 11th, 2010!
I am proud to announce that I completed the ride, plus a few extra miles, for a total of 104 miles! Since I could never coast, that means that for the entire 11 hour ride, I pedaled continuously for a total of 58,240 wheel revolutions! It was a great experience and for such a great cause!
I want to also thank all those who have donated to this worthy cause, and helped to achieve my fund-raising goal for the American Cancer Society!
Here is my video documentary:
***************************************************************************************************************** Filmmaker Joey Neigh just released this short trailer for his upcoming documentary on extreme unicyclng, called "In Unison".  I was honored to be part of it! It will definitely help to dispel a lot of "myths" about unicycling, especially the more extreme type!
UniGeezer BOOK News!
I am excited and honored to announce that I am featured in the new the new book, "50 athletes over 50" by author Don McGrath! It contains 50 inspiring interviews with some of the world's most amazing athletes, all over the age of 50, and many into their 70's and 80's! The book is available NOW, in traditional book form. Don's book will be helping in large measure to spread the word about Mountain Unicycling as the legitimate sport that it is. Here is a recent seminar Don did, and I am mentioned at the 2:30 mark. Thanks Don!  I was humbled to read that the reviewer from "Basil & Spice" chose me as his favorite athlete out of the entire 50 in the book!
I'm was in a national Ford Fiesta Commercial! It was first aired on American Idol, 5/18/10, and seen by millions! I'm the 2nd rider with the letter "D" on the umbrella:
UniGeezer: KTLA 5 Morning News Feature! 3/31/09
Posted in
Uncategorized
|
Comments Off

on Welcome to UniGeezer.com!